I had got adopted to the routine life; work, house and pollution. Me and my wife badly needed a good solid outing to freshen up our souls. So we headed towards Chikamagalur where my uncle stays. My intention was to visit only River Tern lodge maintained by Jungle lodges and resorts. But we had to change the plan as slots were not available. Nevertheless, we first went to Sirimane Falls near Sringeri. I knew about this place as it is one of the popular tourist spot specially during monsoon season, but never had been there. It is about 90kms from Chikamagalur and is worth a visit.
The first birding experience started here, a loud crackling voice came from top of a tree. I ran towards the tree and learnt that it was Hill Myna. It was my first experience with Hill Mynas, they have a shrill voice but an attractive one.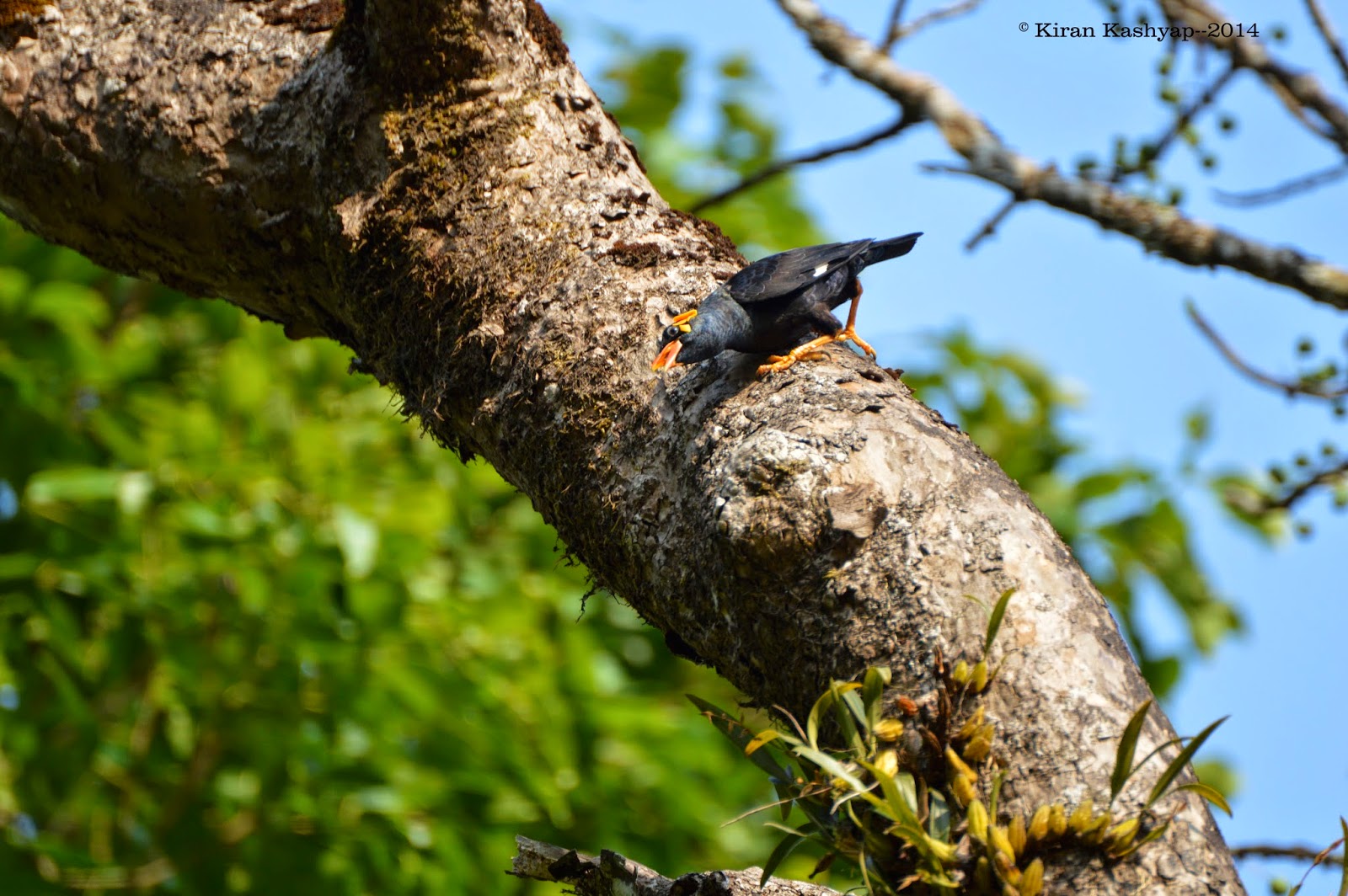 Hill Myna
One of the myna's had found food and others wanted a share. I believe the one which caught the lizard did not agree to it, hence there were few verbal fights. It was an amazing sighting.
We left from that location to visit the Sharadamba Temple @ Sringeri. Such a divine place.!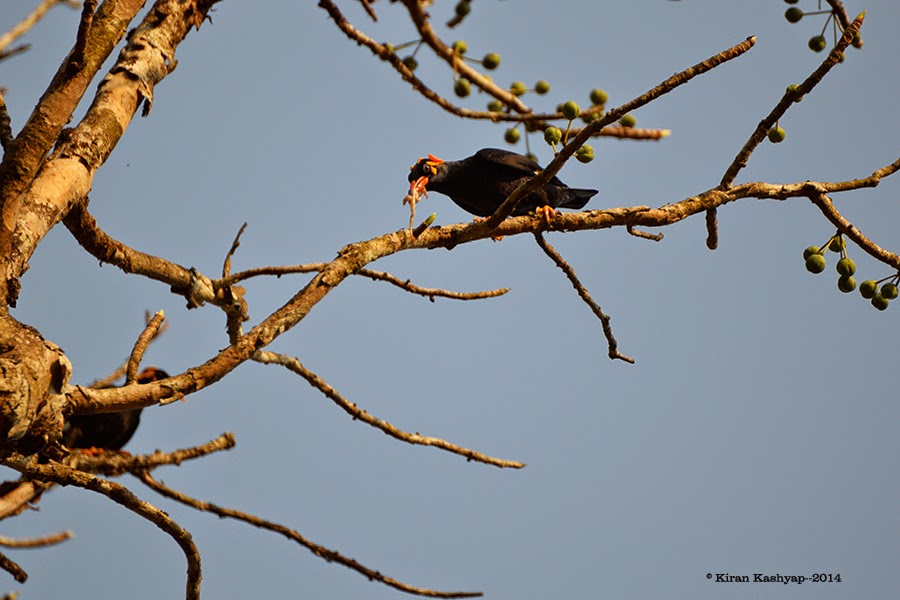 Hill Myna with a kill.
The second day was reserved for River Tern Lodge in Lakkavalli --70kms from Chikamagalur. I had been to Lakkavalli previously also, it's a nice place. Due to Bhadra River Project, there is no scarcity for water and electricity. Nearby places like Bhadravathi, Shimoga and other small towns are dependent on BRP water reservoir. This reservoir is widely known for River Terns. An intelligent and interesting species of birds which reside mainly near water bodies.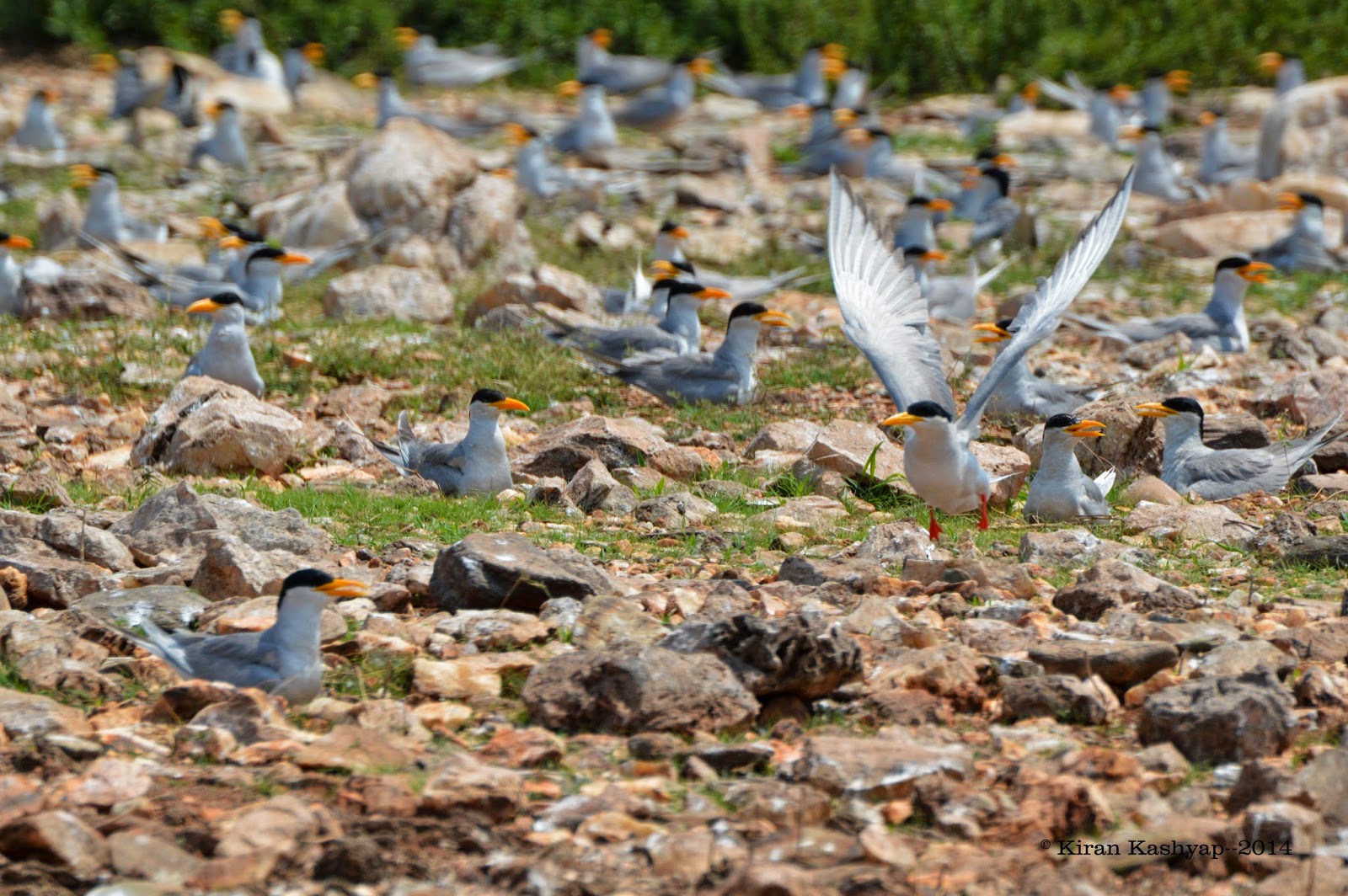 River Terns--orange beaks everywhere.!
We opted for boating just because of River Terns and Ospreys. While we were travelling towards the island where the birds had made their habitat, naturalist started explaining about River tern's nature.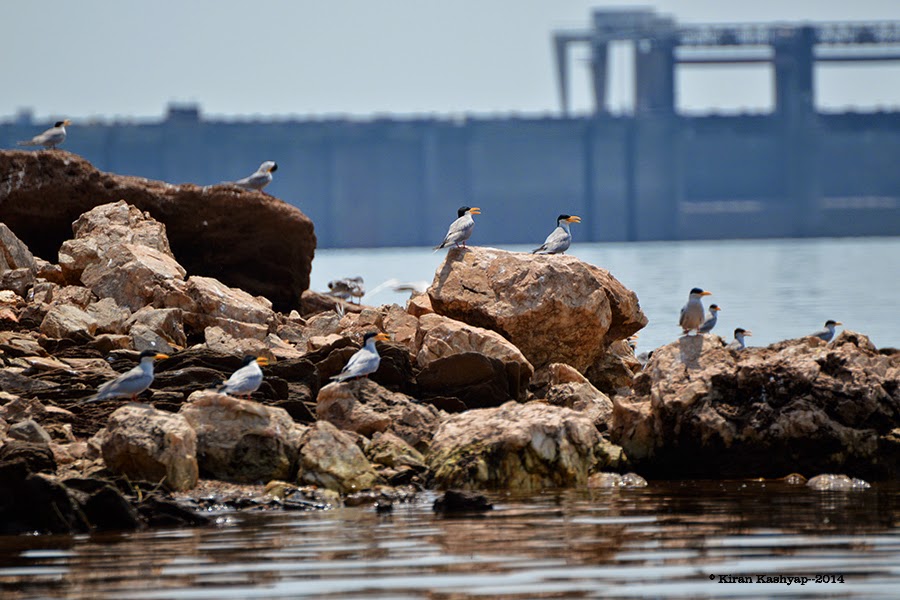 Watching someone..?
It's summer, the water level would go down which shows up a delta. This delta appears to be a good habitat for the birds. These birds would start breeding during this time, and they would not lay eggs by building nests.! they lay eggs on the ground. Eggs would be hatched into new born babies in six-seven days.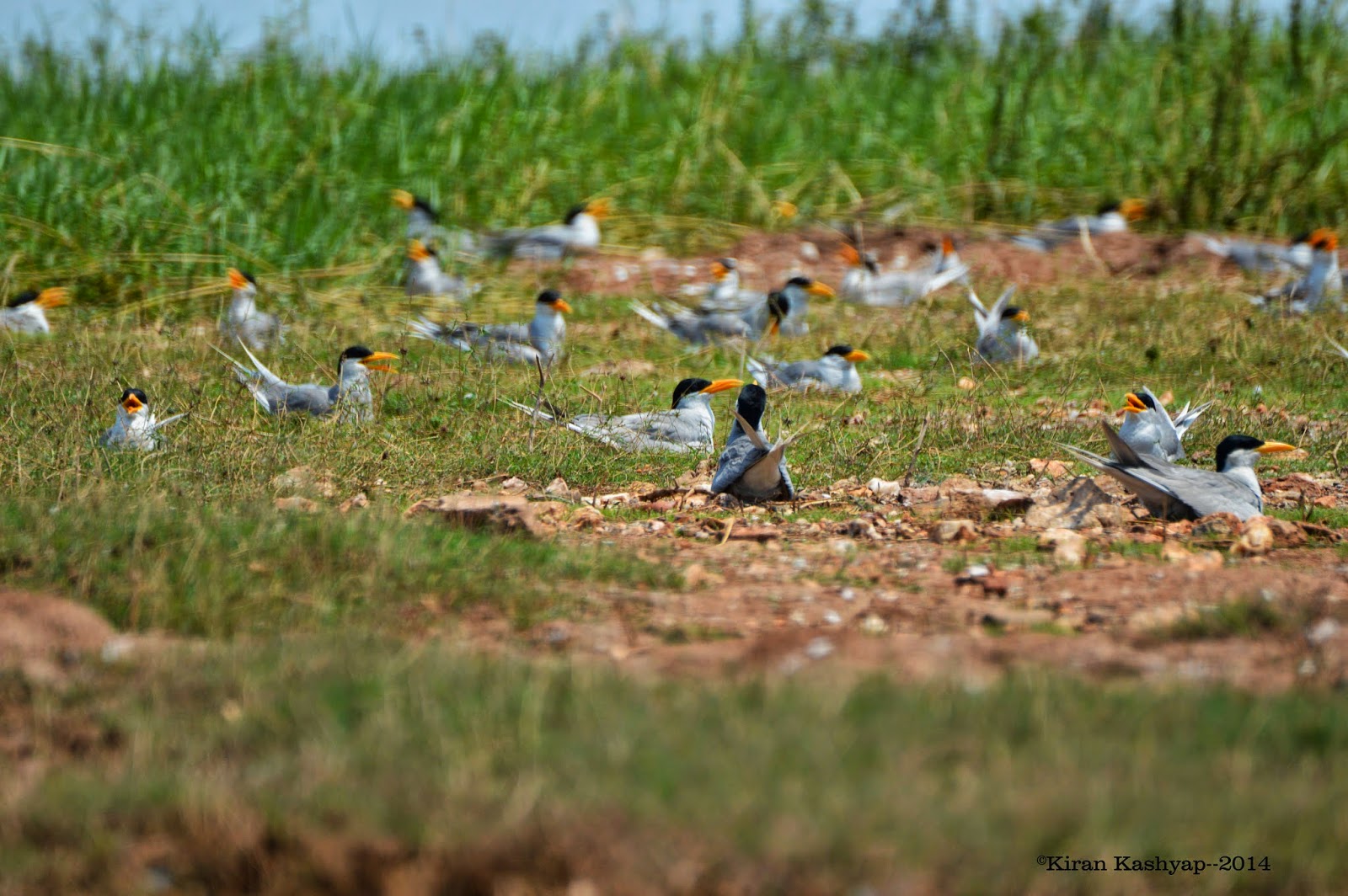 Female River Terns: taking care of their eggs and young ones.
I was shocked to see plenty of River terns on that delta. They were fishing, feasting, feeding their young ones. The naturalist continued with the facts; female's would not leave the ground and their job is to take care of the eggs and the young birds. Male's would go fishing, pick fish and feed the babies.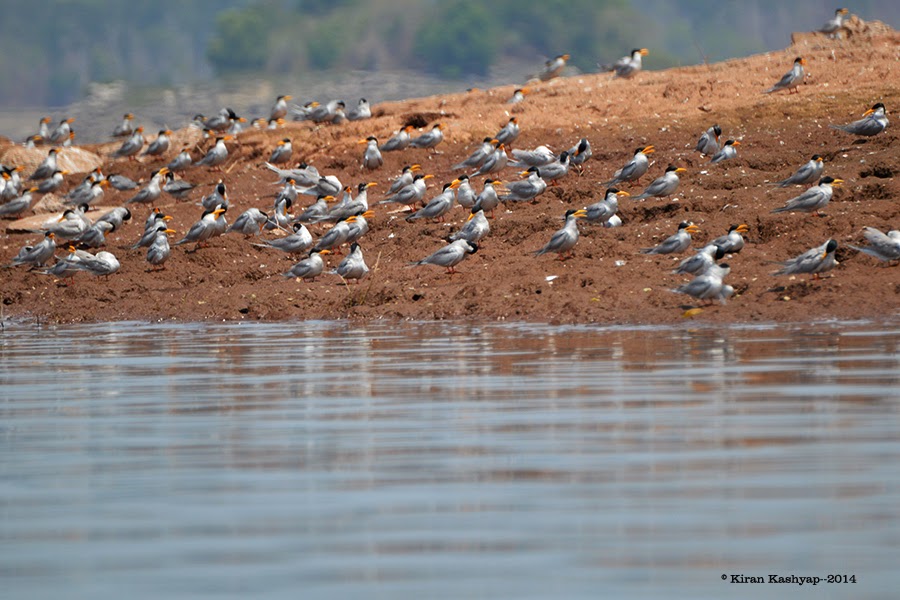 Mobbed by River Terns.
Male birds would scout the entire reservoir to get food. While carrying the food (fish) from a far distance it gets dried. A dried fish cannot be fed to the babies hence, the birds softens the food by dipping into the water before feeding. Such a brilliant gesture.!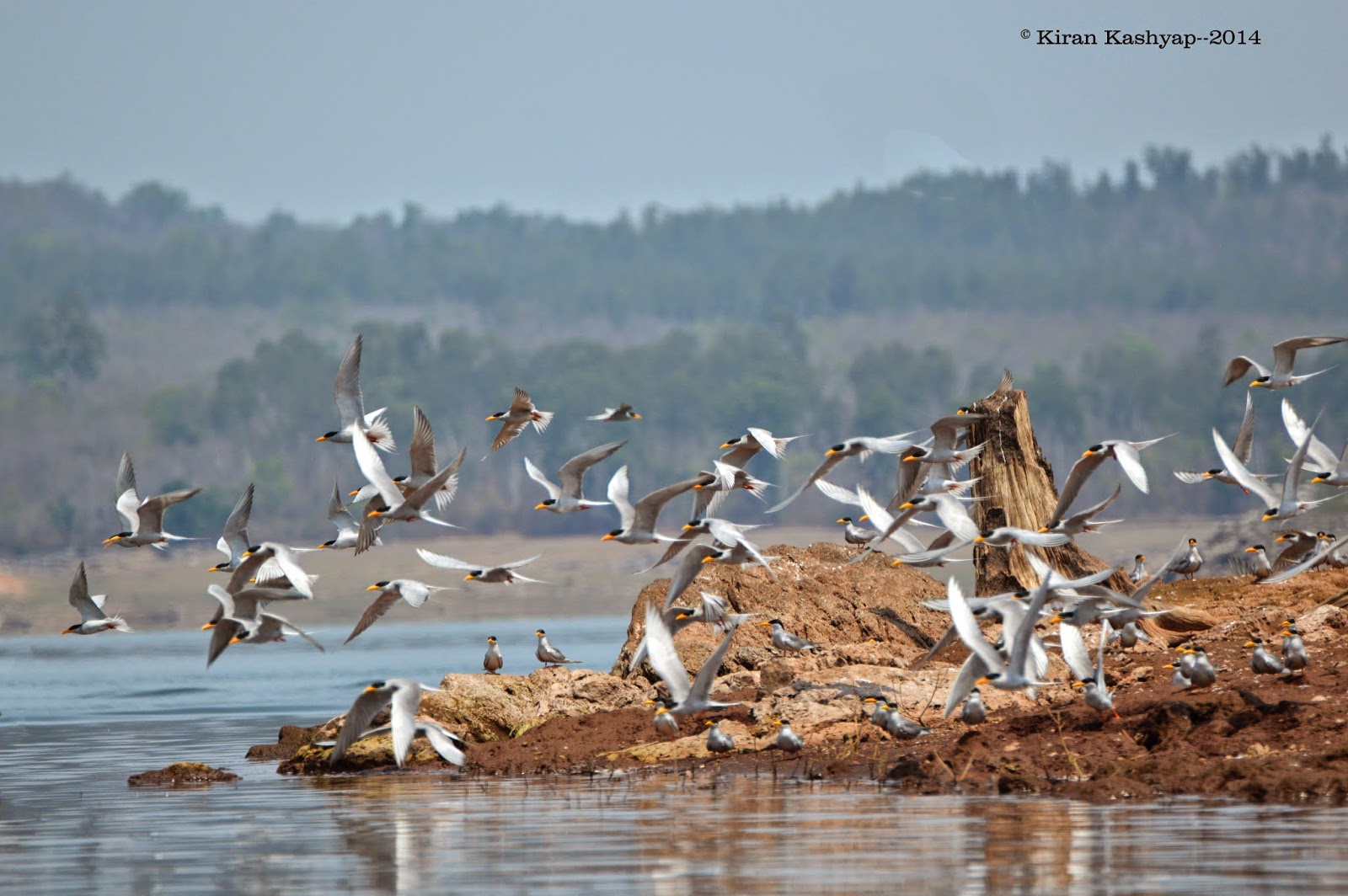 Time to Hunt.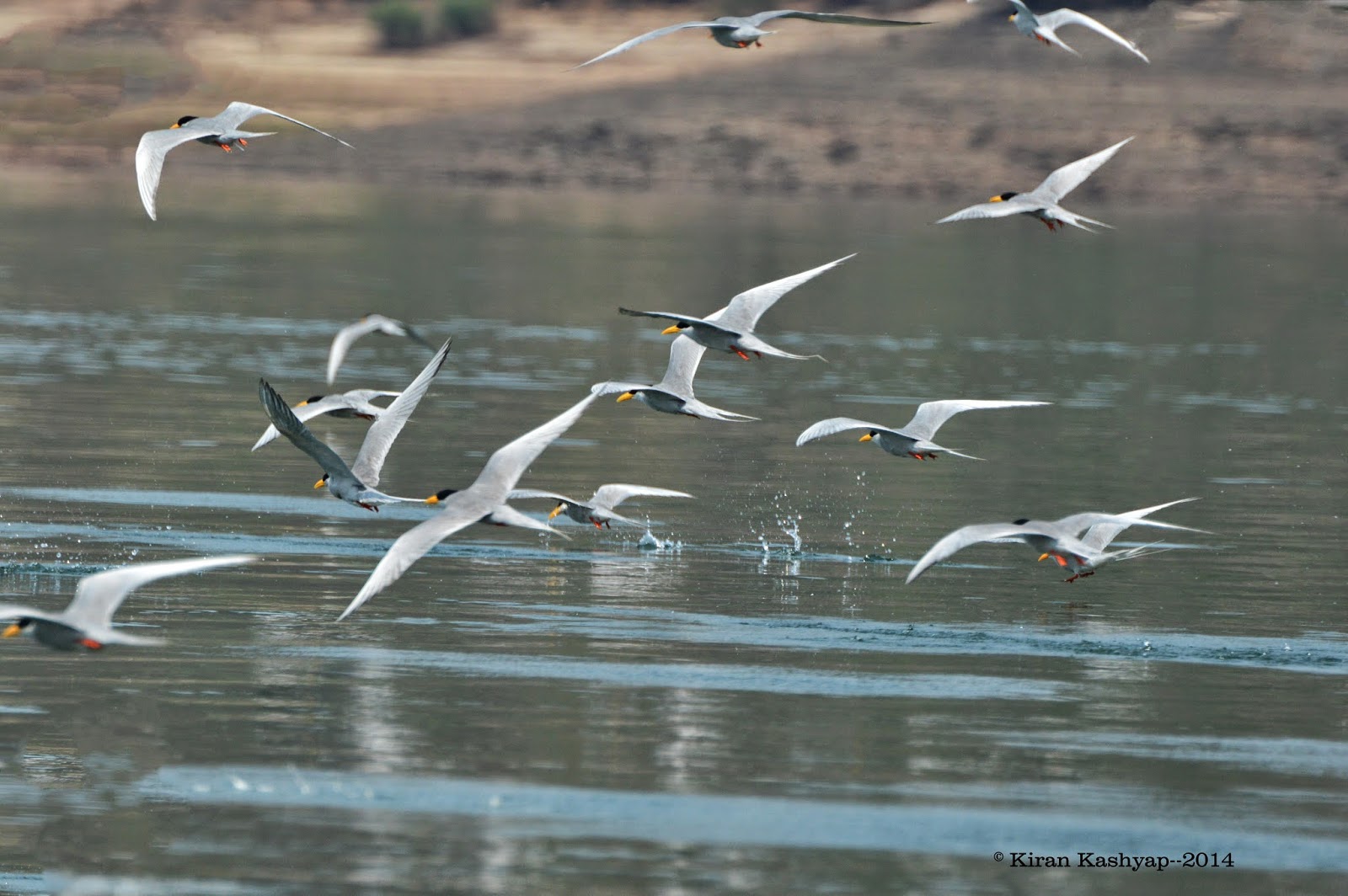 An attempt to catch a fish.!
I also noticed how sweet was the courtship between the male and female birds. Orange beaks everywhere made an awesome scene.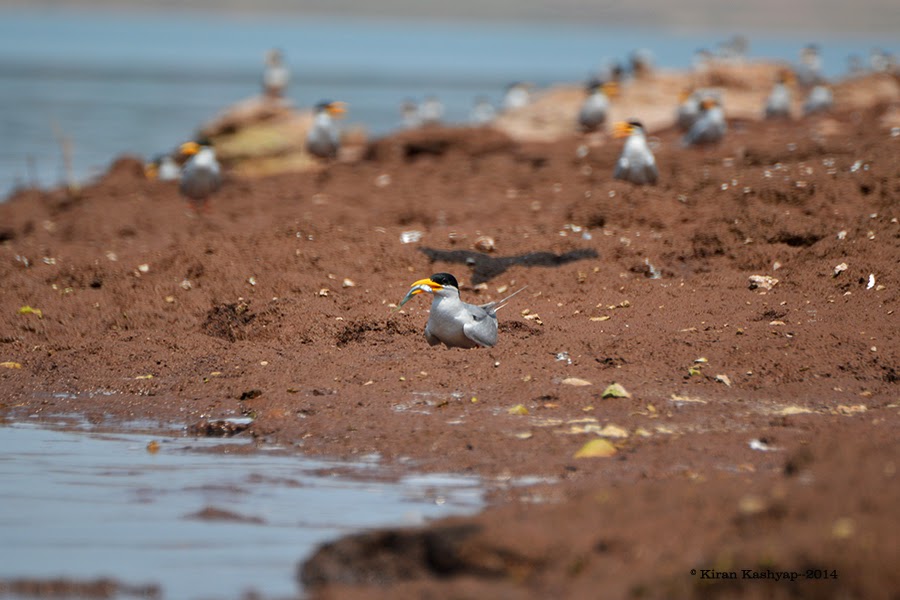 I caught one.!
They were fearless probably because we did not enter the delta and disturb them. We watched their actions from far which made them feel comfortable.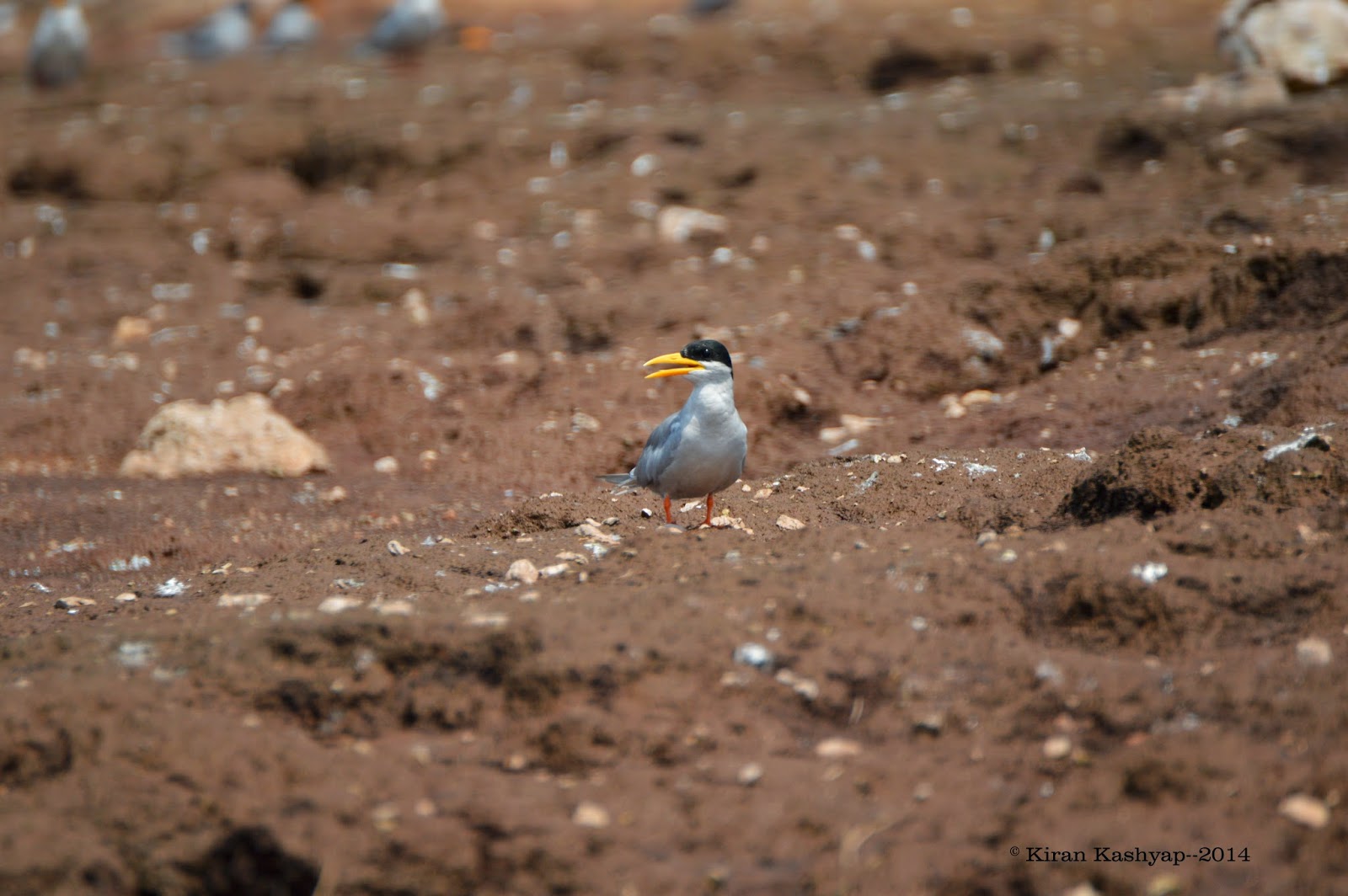 I gulped it.
We waited for sometime to check if Osprey would show up, but no luck. However, these little birds caught our attention all the while. Relishing their actions and with other fond memories we headed back to Bangalore, just to start our normal routine.